I am an oncology Mom, Little Press Co. was created in support of childhood cancer research + care.
Only 5% of funding in Canada for cancer research is devoted to paediatric oncology, leaving it severely underfunded. This page is my effort to give back to the CHEO Foundation, at the Children's Hospital of Eastern Ontario, in support of research + care. To read more about my fundraising efforts + The CHEO Foundation, click here
A gold ribbon represents all the childhood cancers + was chosen in 1997 to be gold because like children, gold is precious. I created the Golden Line in honour of all those who have fought, who are fighting, who will unfortunately fight + to raise paediatric oncology awareness.
5$ from every item in the collection is donated to The CHEO Foundation in support of childhood cancer research + care at CHEO.
In 2021, we were able to donate over 55,000$ to The CHEO Foundation!
all items are made to order, printed + pressed by me + due to the unpredictability of our journey orders have a minimum 1-2 week turn around time
LOCAL PICK UP IN OTTAWA AVAILABLE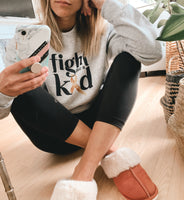 All the materials I use have been carefully selected by me for their wearability, durability + overall quality. I have spent many hours sourcing items that I can take pride in and confidently create with in order to offer you the best finished product. I stand by my product, if for any reason you are unhappy with an order please don't hesitate to reach out.